Director of PJSC "YUZHNIIGIPROGAZ"
Vladimir D. Bondartsov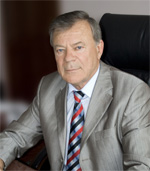 Vladimir Dmitriyevich Bondartsov graduated from Kharkov Railway Transport Engineers Institute named after S.M.Kirov.
He has been working in "YUZHNIIGIPROGAZ" institute since 1964. He has worked as an engineer, Team Manager, Deputy Head of Department, Deputy Production Director. Currently he is holding the post of Director of the major gas-industry leading institution.
He demonstrates fundamental and practical knowledge. During his period of work he took part in designing and construction of most major projects implemented by the Institute's projects.
Awards:
1970 - Winner of Medal "For Valorous Work"
1981 - High Achiever Award of the Ministry of Gas Industry
1989 - Honorary Employee Award in Gas Industry
Holder of Honorary Diplomas and Appreciation Letters.