Deputy Chief Engineer of PJSC "YUZHNIIGIPROGAZ"
Michael F. Chichayev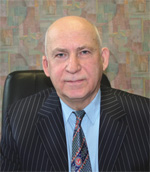 Michael Fyodorovich Chichayev graduated from Moscow Institute of Petrochemical and Gas Industry after I.M.Gubkin, Mechanical Engineer, Donetsk State University by specialty "Applied Mathematics", Software Engineer.
He has been working in "YUZHNIIGIPROGAZ" institute since 1966. He has worked as an engineer, Senior Engineer, Team Manager, Chief Constructor of Department, Principal Project Engineer, Deputy Chief Engineer of design engineering institute. In 1998, staying at post of Deputy Chief Engineer, he headed Department of Project Information & Technical Support.
Michael F.Chichayev governs formation in the institute of advanced software complexes, hardware and computing machinery, development of electronic data bases by all lines of activity.
Awards:
1983 – Order of the Badge of Honor.
Holder of Honorary Diplomas, Appreciation Letters.