Deputy Director of Operations Head of Project Engineering Support Department, JSC "YUZHNIIGIPROGAZ"
Igor Arkadievich LAZAREVICH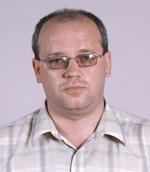 I.A. Lazarevich graduated from Makeevka Civil Engineering Institute by specialty "Water supply & Sewerage. Rational Use and Protection of Water Resources", Civil Engineer.

He has been working in YUZHNIIGIPROGAZ since 1993. He started his working life as a design engineer, worked as a lead engineer, group leader, chief project engineer and deputy head of department.

I.A. Lazarevich performed field supervision job, at various times he attended technical meetings on finalization of design solutions and settling the controversial issues of design. He was involved in the work of construction site selection and project acceptance commissions and design of pipeline transportation systems.

In 2012 Igor Lazarevich headed the Project Engineering Support Department.

In 2014 he has been appointed to the position of Deputy Director of Operations.
Awards: honorary diplomas and citations.