Deputy Chief Engineer of PJSC "YUZHNIIGIPROGAZ"
Sergey Podolyanchuk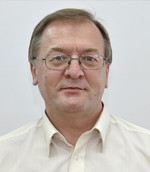 Graduated from Ivano-Frankovsk National Technical University of Oil and Gas , degree in specialty Oil and Gas Fields Machinery and Equipment, Mechanical Engineer.
In 1982 he started his career with YUZHNIIGIPROGAZ. Positions: Engineer, Senior Engineer, Team Lead, Chief Structure Designer, Head Of Department, Chief Project Engineer, and Institute's Deputy Chief Engineer.
Roles and responsibilities: Management of design of new and reconstruction of existing gas production and oil and gas processing facilities.
Honored with Letters of Awards and Certificates of Acknowledgement.