Historical Background: XXI century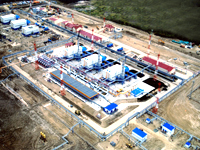 Tayozhny Compressor Station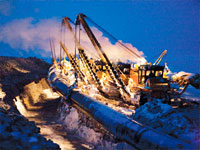 Bovanenkovo-Ukhta gas transmission pipeline
Ukhtinskaja Compressor Station
In XXI century the company proceeded with the development of gas-industry projects in the lines of gas production, processing and pipeline transmission:
Development of Aneryakhinky and Kharvutinsky areas at Yamburg gas condensate field;
Development of Yuzhno-Russky gas condensate field;
Development of Khancheisk gas condensate field;
Justification of investments in construction of the Bovanenkovo and Kharasaveisk gas fields on the Yamal Peninsula and transportation of gas from these fields;
Development of East Tarkosalinsk gas condensate field;
Purovsky Gas Condensate Processing Plant ;
Integrated development of the Shtokman GCF. Phase I. Onshore Facilities;
Development of the Vankor Field Group;
Construction of integrated facility for gas production, treatment, liquefaction, offloading of LNG and gas condensate from the Yuzhno Tambey GCF;
Development of the Valanginian deposits in Samburg field;
Gas Chemical Complex with helium recovery from the Chayanda OGCF gas (also known as Chayandinskoye field);
Development of the Achimov deposits in the Urengoy field, Samburg license block;
OPF Booster Compressor Station, Sakhalin-2 Project;
Feasibility Study for construction of gas pipeline from the Kovykta GCF in Irkutsk region;
Northern Tyumen Regions (SRTO)-Torzhok gas transmission pipeline;
Bovanenkovo-Ukhta (Northern section) gas transmission pipeline;
Construction, revamping and technical upgrade of compresor stations of main gas pipelines (over 300 CS);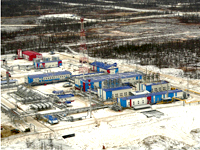 Yuzhno-Russky oil and gas field
The key resource of design company is its professional team who, applying proven methods and creating new solutions, meets Clients' requirements and succeeds in achieving goals. "YUZHNIIGIPROGAZ" may take a legitimate pride in the results of its work accomplished for the past decades, devotion to work and profound professional knowledge of its staff.
The company was awarded the Order of the Red Banner of Labor (Decree of the Presidium of the Supreme Soviet of the USSR dated December 2, 1983) and other awards for achievements in design of projects for development of the major gas fields and gas transmission pipelines.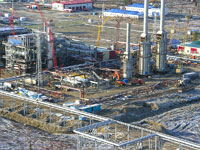 Purovsky condensate processing plant
Over 350 engineers and researchers from "YUZHNIIGIPROGAZ" were awarded the government awards for taking part in development of the key gas-industry projects . UNGG designers had eight awards to their credit: 5 engineers became the USSR State Prize Laureates and 5 engineers became the Laureates of the USSR Council of Ministers Prize.
In 2004 national joint-stock company "Neftegaz of Ukraine" awarded some engineers of "YUZHNIIGIPROGAZ" (6 persons) with Decorations of Honor (I, II, III degree) for the long-term creative labor and significant contribution to the development of the Ukrainian gas sector.
1930's
1940's - 1960's
1970's - 1990's
XXI century